Ergonomic Benefits of wearing Suspenders:
Posture's Unsung Hero Posture is the body's natural balancing act. Without good posture, various health problems can occur. Self-
image also can suffer, since good posture makes a person stand taller and look more confident. Some people do not realize that suspenders, which were the primary method of holding up pants until the early 1900s, have the added benefit of improving posture.
We use our muscles reflexively to balance ourselves when we sit, stand, sleep or work. Our bodies would fall forward without muscles pulling us back. When your body is balanced, it is self-supporting and requires very little help from your back muscles. Taking strain off of your back can help to avoid many injuries. This can become especially important in certain types of jobs or activities. With correct posture, your internal organs have room to function normally, and blood circulates freely to create the best total fitness.
Wearing suspenders contributes to better posture by applying pressure on the shoulders, stimulating the brain and the body to straighten and balance itself front to back, in much the same way that balancing a book on your head stimulates the body to straighten and balance itself in all directions. The body naturally wants to balance itself. The brain and the body take in many sensual cues for sustaining balance and posture, including visual, inner ear (cochlea) and pressure exerted on the muscles and joints. We feel balanced based upon the information sent from the muscles and joints to our brains, and our brains assume that we are balanced when there is equal pressure from side to side and back to front.

Paisley pattern in a single clip Designer Series Holdup... $32.95
Suspender straps provide an additional physical sense to give the body even more cues. The gentle pressure exerted by suspender straps on the shoulders "tricks" the body by creating the necessary stimulus that forces it to respond by straightening and balancing from front to back. This, in turn, has the effect of making the person "stand taller." Good standing posture is when the ears, shoulders, hips, knees and ankles are "stacked" in a straight line, shoulders relaxed and knees slightly bent. Poor posture causes muscular strain that can cause injuries and wastes energy. Good posture, enhanced by wearing suspenders, makes the person look healthier, allows clothes to fit better and makes a better impression on others. The result of wearing suspenders then, is healthier for the entire body.
They cause the body to reflexively straighten itself, encouraging the person to stand taller. Suspender wearing also creates better posture and eliminates pressure on abdominal organs while sitting or standing, since pants can be worn more loosely. Habitual suspender wearers can now claim health rewards as well as fashion rewards. To Prove That Suspenders Encourage Your body to Stand Straighter, Try This Simple Test:
1. Draw a line approximately 6 inches away from a wall.
2. Facing your body away from the wall, place your heels on the line that you have drawn.
3. Stand how you would normally, and use a a measuring tape or ruler to measure the distance between the wall and the top of your shoulders.
4. Then, put on a pair of suspenders, adjusted taut enough so that there is a gentle pressure on the shoulders.
5. Face away from the wall with your heels on the line, and re-measure the distance between the wall and the top of your shoulders.
6. Depending upon the original standing posture, there will be from 1/2 inch to 2 inches less distance from the shoulder to the wall in the second measurement.
The back will be noticeably straighter in the suspender wearer than the non-wearer.

Holdup Exclusive Leather Suspenders... 4 styles of Brown or Black leather USA made suspenders with brass length adjusters, patented no-slip clips, comfort elastic back strap.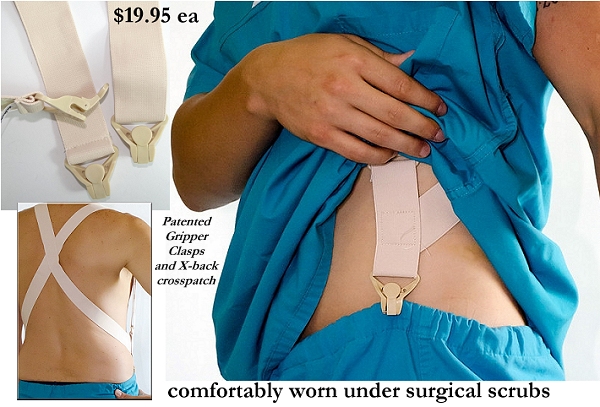 Just what the Doctor Ordered for their patients ... and themselves!... www.MedicalSuspenders.com
---
Attention Urologists, Surgeons, General Practice MDs and DME suppliers.. USA made medical suspenders
You may be wondering why a suspender company would be contacting you, but we feel that we have a valuable product for your patients that need help with such issues as holding up adult diapers, jock straps, hernia trusses, or
even just discreetly keeping their loose fitting pants up after abominable surgery. Not only pregnant women have a medical condition that prohibits cinching up a belt. Our own webmaster Mike has a colostomy and prolapsed stoma and wears Holdup undergarment suspenders every day since 2008 like many ostomy patients.
Our patented Hip-clip undergarment suspender is already being worn by hundreds of patients after surgery for the above mentioned issues. For your patients that need support, the Under-Ups are now approved for medical reimbursement by the major insurance carriers as a durable medical equipment (DME), HCPCS Code # A4466on Holdup Product # 6406HP. See http://www.medicalsuspenders.com/plastic-clasp-under-ups.html for more details. These 1 1/2" wide Under-Ups slip on like a backpack and are airport friendly. They can be worn while going through airport security metal detectors without setting off alarms. Same goes for all secure buildings with metal detectors. The convenient side clip design easily allows wearers to detach and reattach the clips without removing their loose fitting shirt. Great, when you need to use the restroom. Doctors and nurses love wearing the super comfortable Under-Ups with their surgical scrubs or with pants and shorts all year long.
Please refer to our website, www.medicalsuspenders.com, for additional product information and see the Maternity suspenders and fitted sheet straps for motorized hospital beds. Have your patients visit our site or contact us by phone at (800) 700-4515,
Product
Search

Type in a Holdup Suspender Color, Suspender Catalog Category name or Style preference and see all the Holdup Style choices for immediate sale in our product search engine.
---

Satin finished poly-blend USA made elastic fabric with the Button-on traditional look.
Top Seller Showcases:

White Suspenders Black Suspenders Red Suspenders Wider SuspendersThin Suspenders for Teens & Gals Holdup Top Sellers Soft Undergarment Suspenders Maternity Suspenders Leather Holdup Suspenders No-Buzz airport friendly suspenders Dual Clip Double-Up style Braces
Want a Holdup Suspender full color brochure call 800-700-4515 or e-mail us your address information.